Rev. Ted Stepp & Family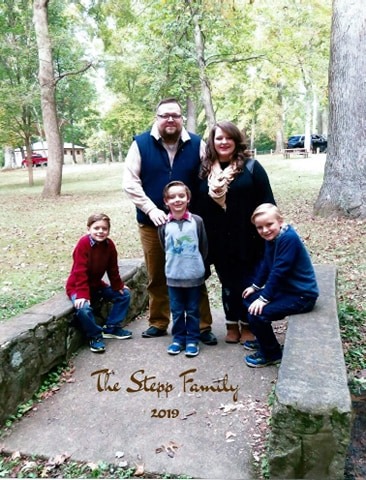 Pastor Ted and his family came to us from North Eastern KY, in January of 2016. Pastor Ted served in Youth Ministry as a Youth Pastor for 6 years and then spent time in evangelism. He transitioned from evangelism to becoming our Pastor. Pastor Ted and his wife Emily have been married since September 2008 and they have been blessed with 3 boys, Elisha, Jeremiah and Isaiah. Pastor Ted is an ordained minister in The Christian Baptist Association in process of denominational transfer to The Wesleyan Church. Pastor Ted and Emily spend much of their time in our community loving on others and getting to know them. They love ministry and they love people. Their family truly feels called to live out being the body of Christ. In addition to the ministry of preaching Pastor Ted and his family serve our congregation in a variety of ways. Pastor Ted is available for crisis care, offers biblical pre-marital counseling, spiritual counseling, and discipleship training. They are staying excited to bring Christ's gospel message to our community, to help us grow in the Lord and reach the lost for Jesus .
Pastor Ted is very involved in our community & The KY-TN District of The Wesleyan Church. He is the Vice-President of The Monterey Ministerial Assocation, Ministerial Board Member of the Cumberland Grove Wesleyan Camp, Youth Camp Director for Cumberland Grove Wesleyan Youth Camp, and also sits on various commitees at our local Elementary School.
Email: pastorted@montereywesleyan.com